Dear Friday
- Thank you for coming so soon. And, high FIVE!!! We made it. This wasn't the very best of weeks and I am SO ready for a relaxing weekend.
Dear Husband
- I love you.
Dear Baby Apple
- So happy we have a name picked out for you! I'm not ready to share it with the world yet, but we know you love it already!!
Dear Starbucks
- Thank you for making me the most perfect Pumpkin Spice Latte this morning. You have made my week SO much better.
Dear Houston Blogger Symposium
- I can't wait to see some old friends and make some new ones!
Dear Meg C
- Thank you so much for hooking me up with some bloggy business cards! I can't wait to show them off tomorrow!
Dear Crib sitting in the garage
- We are gonna build you this weekend.
Dear Monday
- Thank you for being a holiday so I can have the day off to rest and relax before another hard week. I also get to see Baby Apple in an ultrasound! Can't wait!
Dear Readers
- Y'all are amazing and appreciate each and every one of you. I can't wait to share all the fun things coming up with you!!!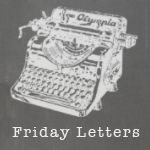 I'm also playing along with Fill in the Blank Friday!
1. Right now the weather where I live is hot. Come on Houston...this preggo needs some cooler weather!
2. The best piece of advice I've been given is trust your instincts.
3. My most favorite person in all the world is my husband. And my baby. I cheated and picked two!!


4. If I were to have a "mission statement" for my life, it would be Live each day to its fullest. Live every day in pure happiness and focus on things that bring you peace, love, and just an overall feeling of JOY. Nothing, and I mean nothing, is worth ruining your day!!!!
5. My most favorite item in my closet is my leopard print boots....so READY FOR FALL!

6. The best cure for a bad day is beagle kisses and hugs from the hubs.


7.
Today is
Friday and I couldn't be happier .
Happy Friday from me and the bump :)