Check out these places where our wedding was featured:




Bayside Bride
My shoes were featured!
Look for the cream pair of Nina's with the flower and feather!
5th photo down called "For the Fun Lover"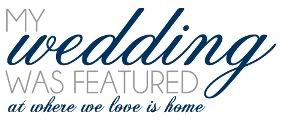 My husband and I were married on a beautiful October evening...October 8th, 2011 to be exact.
Our photographer was the amazing Sarah McKenzie, of
Sarah McKenzie Photography
. She takes amazing photographs and I would highly recommend her to anyone! She travels world-wide!
Our linens, lighting, catering, and cake were all part of our wedding package.
If you have any questions about any part of our service or would like to feature our wedding on your website, please feel free to contact me at
vintageapplemichelle@gmail.com